CLAAS XERION 4000 SADDLETRAC V1.5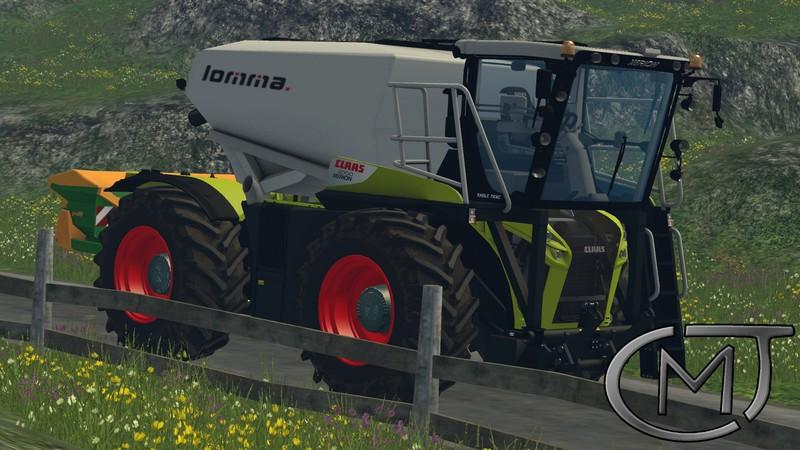 Description:
In the SADDLE TRAC the cab is positioned above the front axle, leaving plenty of space behind the cab for a wide range of potential applications.
With a tanker installed, the XERION becomes a self-propelled machine for substrate logistics. The SADDLE TRAC is already a firmly established player in this area.
Mounting systems for seed and fertilisers also increase capacity when time frames are tight.
CLAAS Xerion Saddle Trac
max speed 50km/h
engine spec
Cylinders 6
Cubic capacity 10.6 l
Nominal engine speed 1900 rpm
Rated output (ECE R 120) 308 kW/419 hp
Max. output (ECE R 120) 320 kW/435 hp at 1700 rpm
Max. torque 2100 Nm at 1300 rpm
SGT tank
capacity 16 000l
width spray 8m
liters Per Second 250
MACHIO GASPARDO
disc applicator
size 6m
liters Per Second 50
AMAZONE CATROS
disc applicator
size 6m
liters Per Second 60
KAWECO OPTI DRILL
ploughshare applicator
width spray 6m
liters Per Second 55
BOMECH FARMER
hose applicator
width spray 12m
liters Per Second 150
BOMECH FARMER
hose applicator
width spray 6m
liters Per Second 100
LOMMA
seed tank
capacity 10 000l
Model: Smety, Angelus
Textures: Smety
In game: Smety
Test: Smety, Angelus, Honza, Pavlas
Version 1.0
new Bomech and Amazone applicator
new physics
animated farmer
passenger mod 2.0 support
steering wheel option
Version 0.8 beta
release
Credits:
Model: Smety, Angelus
Textures: Smety
In game: Smety
CZMOD_CLAAS_Xerion_4000_ST.zip – 60.3 MB UploadFiles.eu