COLDBOROUGH PARK FARM – ULTIMATE EDITION V1.1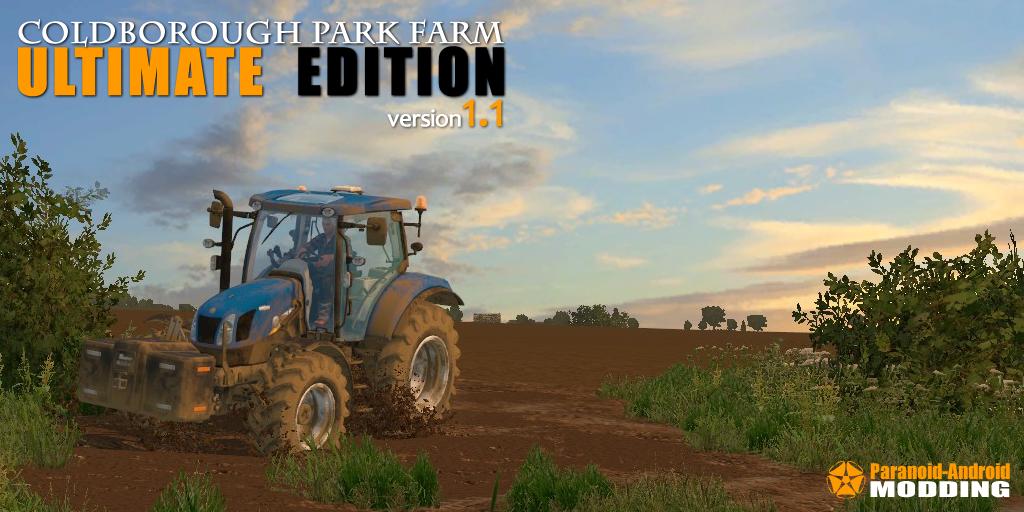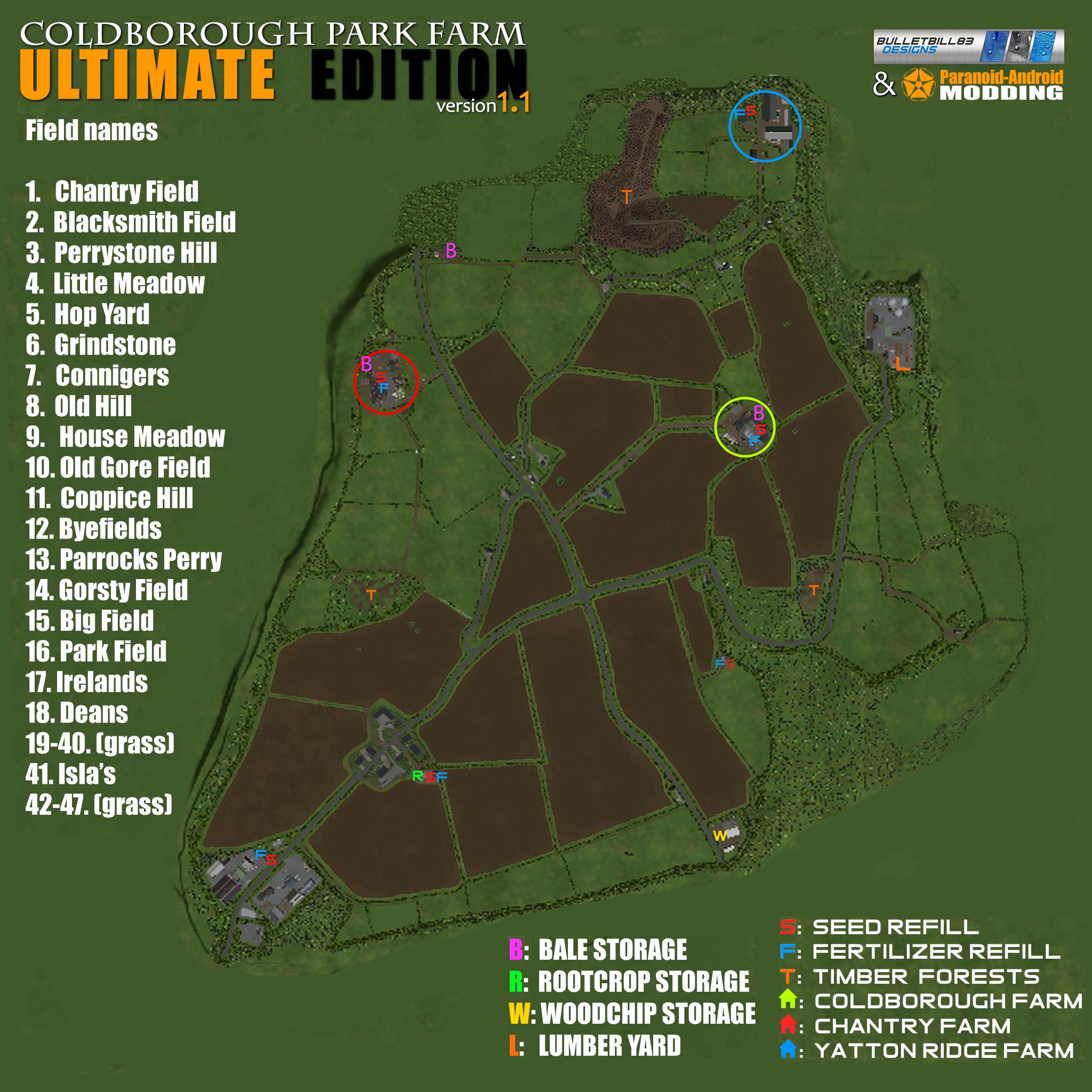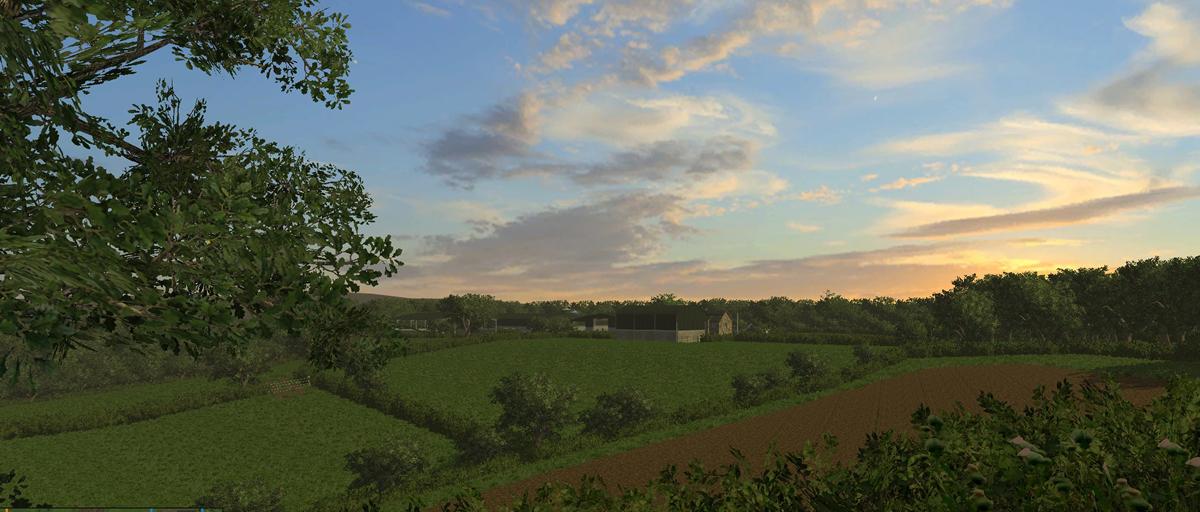 Description:
This version of BulletBill83's Coldborough Park Farm is a heavily modded edition of what was already an excellent map. The Ultimate Edition has taken over a year to get to this stage, and builds on Bill's superb foundations. Version 1.1 fixes many bugs and issues from the first modded map and also adds a lot of new features (see the change log below). This is the last edit I will make of this map, in fact it's the last map I will be making for FS15, so I really hope you enjoy this version as a final farewell to FS15.
For those who don't like too get their machines dirty too quickly or are struggling to keep up with soil management part of the game, please see the TIPS section at the bottom on how to alter these – they are really simple fixes.
So what's new?
There is a lot to discover in this modded version, and I'm sure you'll have fun in doing so.
The purpose of the work done on this map was to add a lot more detail and increase the visual fidelity of it. Rather than write screeds of text, here is a quick run down of the main things added to the map (this is not an exhaustive list).
Changelog v1.1
– Added Damage and Repairs mod (optional – simply include the mod in your mods folder to work)
– Added Hard Point Extension mod (optional – simply include the mod in your mods folder to work)
– Large new forest area with hundreds of new hand placed cuttable trees
– Added Harvestoun Tavern Brewery (new sell point for your Barley)
– Added petrol station with fuel trigger and egg sell point
– New silage clamps at Yatton Ridge Farm
– New sheds added to Chantry Farm and slight adjustment to some existing buildings
– New buildings added to Coldborough Farm
– New buildings added to, and layout adjustment of, Yatton Ridge Farm
– Added bale destroy trigger to cow field
– Added new lime pile to allowing remote filling of fertiliser spreaders
– Many new buildings added all over map
– New level of detail at lumber yard
– Many new dirt tracks
– Expaned size of some original fields
– Seven new fields available to purchase
– New seed and fertiliser triggers added
– Hundreds of new hand placed objects for more detail
– Removed gulle mist mod to fix soil management conflict
– Adjusted some animation items to fix clipping issues
– Fixed some warnings and errors present in v1.1
– Adjustment of grass and cut grass textures
– New starting vehicles
Changelog v1.0
– Added Terrain and Dirt Control (optional – simply include the mod in your mods folder to work)
– Added Soil Management (optional – simply include the mod in your mods folder to work)
– Added a new slurry pit
– Overhauled the Coldborough Wood forest area (many more trees and undergrowth)
– Created many new and interesting dirt roads (all with terrain and dirt control; you will need to be careful not to get stuck on these, just as in real life!)
– Expanded the sheep field
– Adjusted cow pasture size
– Given sheep and cow fields a more realistic looking terrain
– Added more trees, walls, weeds, undergrowth around entire map
– Added a workshop area to the garage in Coldborough farm (you can even drive a combine up on to it!)
– Many new animated gates added
– New loading ramp near the cow manure area (did I mention how much fun it is to load manure here?!)
– Changed many of the map textures
– A vast amount of clutter added to entire map
– Revamped the potato and sugar beet storage area
– Vastly increased all view distances for all foliage layers
– Expanded and adjusted the WynnStay Stores area to include individual herbicide and fertiliser tanks for use with Soil Management
– …and many, many more!
As you can see, many new things have been added to try and give the map an even more realistic look and feel.
To bring all this together, you will need the following mods in your mod folder. Also, it's best to start with a fresh mod folder adding only the mods listed below and the recommended one's too. I have not tested this map with any other mods other than those listed so cannot be certain if any others will cause conflicts. Please heed this advice before you assume the map is broken.
RECOMMENDED MODS:
AnimalHUD
BunkerSilosHud
BuyManyAnimals
CareerDays
FasterTraffic
FollowMe
FruitFillTypeIconText
HeapTipTrigger
Light_Addon
MachineryRental
ManualAttaching
RemoveHaze
ToggleTipSide
zzz_BaleExtension
zzz_CameraMod
zzz_ComplexBGA
zzz_DriveControl
zzz_FastForward
zzz_FeedBales
zzz_GreenFertilizer
zzz_LowFuelIndicator
zzz_SpeedControl
zzzAutoCombine
HardPointExtension
DamageAndRepair
TIPS:
TERRAIN AND DIRT CONTROL
The Terrain and Dirt Control mod gets your machines dirty pretty quickly. I hear a lot of folk mentioning this, so I investigated a solution to it. While this might not be the 100% correct way to do it, it certainly works for me, and my machinery now takes a more realistic time to get dirty.
Basically all you have to do is unzip the Terrain and Dirt Control mod then open up the "terrainControl.lua" script inside the archive. In that file search for the following line: "dirtAmount = dirtAmount + (AxleSpeed/3000)/#self.wheels;" and change the numeric value to "190000" instead of "3000" then save the file. Create a zip archive of the Terrain and Dirt Control mod you have just altered, then copy the new zip into your mods folder. Voila! You will now not need to use the pressure washer every five minutes!
SOIL MANAGEMENT
— When using soil management, the first time you go to save a game you may get a pop up saying soil mod hasn't saved properly – just save again and it should be fine.
— I always adjust my careerSaveGame.xml file soil mod section intervalIngameDays="7″ – this gives 7 days between growth stages and gives you far more time to complete tasks. Weeds will still grow daily I think, but crops won't. Bear in mind that this also means that grass growth stages will be 7 days apart too, but I think this is more realistic anyway than grass returning to full length in a couple of days.
— If you want to initiate a growth stage manually, you can press ALT+Y and it will initiate it after a short delay. Don't keep pressing the key combination, as it should eventually kick in.
Have fun!
Credits:
Original map:
BulletBill83
Ultimate Edition mod
Paranoid-Android
Map Scripts:
Marhu (Watermod, Pig & Beef)
Petorious (MultiAngleTerrain and hire mode revert)
webalizer (Chopped Straw)
Xentro (AnimationMapTrigger / Manual Opening Gates)
Decker_MMIV (Soil Management & Growth Control)
Igor29381, S.W.I.K. Modding team, Decker_MMIV (Terrain & Dirt Control)
Xentro, Vertex Dezign (HardPoint Extension)
rafftnix, Blacky_BPG, Marhu (Damage and Repairs)
Map Objects:
Giants
NI Modding
SEAN6920S
Chris 7710
Petorious
Sandgroper
Lord Williams
leicestershireFarmer
Nick98.1
Faitan
FMC Modding
m4pj3cts
Farmer Andy
RC-devil
G-Modding
Itisntworking
Srsmds
Tater salad
Jepsen
Mappers Paradise
OxygenDavid
K&K Modding Team
Luculus
Benedict
TM
Alex2009
Chtiseb
Mfg Bernascht
von kyokoyama777
CHRIS1988
Kolbenfresser
Luculus
marhu
Decker_MMIV
THomas
SirJoki80
Dorset
WBF
chris7710
petorious
NI Modding
LJW modding
fatian
javieroo7
juanathan
lsm modding
chriss 1988
kolbenfresser
zefir
mafia73
csmc
jauchebpaule
kazura
creative modding
imschonenwildcott
coufy
vanillaice87
Larsen modding
webalizer
sandgroper
lancyboi
Somethingonmyshoe2
vortex designs
blobbyfarmer
DzikiDzik
robbie
Jendrek
rafftnix
Blacky_BPG
FrenchyModding
janlandby
GoldFox
If you find that there are objects on this map that I have not credited you for, please drop me a PM and I will add you as I have not purposely left you off the list. 🙂
Map Sounds:
Neurotek
Help, inspiration and advice:
BulletBill83
Marxtai
Ian898
OxygenDavid
Michaelbjerg21978
robbie
ColdboroughParkFarm_Ultimate_Edition_1_1_0.zip – 586.5 MB uploadfiles.eu/sharemods.com