FS19 ROADRUNNER+ V1.0.0.2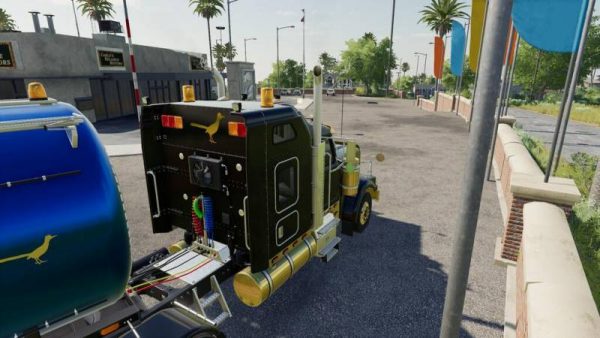 Description:
The Roadrunner+ brings many improvements, and upgrades to the much loved Roadrunner truck.
Changelog 1.0.0.2
– Replaced broken wipers with properly sized ones that can do a full 90 degree stroke for better vision
– Updated engine sounds. Now has compression-braking sound, and gear shifting sounds
– Added twin-wheel options for all wheel brands
– Animated gear stick and clutch pedal to go with new sounds
– Falsified tachometer to match virtual gear shifts
– Adjusted fifth-wheel rotation limits to accomodate steep sell points, like Ravenport Central Grain Elevator, so trailer or truck aren't left with all wheels in the air
– Adjusted position of decals to avoid shimmering at distance (game unable to decide which texture is in front)
– Tweaked suspension for more stability at high speeds
– Reduced triangle count by 6%
– Remove duplicated dash guages from left side
Changelog 1.0.0.1
– Added interior lighting
– Added low intensity to static headlights when on parkers
– Adjusted pricing for options
– Tweaked wheel physics
– Added option for hybrid engine assist to 950 motor, for even more power (to rival other mods with misquoted power ratings). 1800 horsies? You bet!
– Fix front and back Roadrunner decal positions being swapped in config
– Changed vehicle sounds
– Fixed reversed right-side window control with gamepad
– Implemented custom controls, to allow changing of bindings for seat and window controls via in-game controls menu
– Adjust in-cabin clock for daylight savings time (not really)
– More powerful engine (581 kW / 790 hp, 699 kW / 950 hp, and hybrid motor assisted 950 hp diesel, delivering 1,324 kW / 1800 hp!)
– Top speed of 120 kph (75 mph)
– Upgraded brakes, to handle the higher power and speed
– Four-wheel steering as standard (can be toggled to front-only, if desired), for improved stability and tighter turning circle
– Rear working lights, with 100m illumination range
– Powerful headlights with high-beam spot lights, reaching 150m illumination
– Beacon lights
– Working gauges and dash lights
– Working connection hoses
– Power windows
– Adjustable in-cabin camera position
– Two additional external camera positions, to easily view rear attatchers, and trailer hitch
– Choice of fender designs
– Multiple wheel options
– Lots of colours!
– Optional rear trailer (high and low), with PTO output
– Optional front three-point linkage, with PTO.
Authors:
Mantrid
FS19_RoadrunnerPlus.zip – 13.6 MB uploadfiles.eu/sharemods.com