FS19 SUDHARZ MAP V1.2.2.0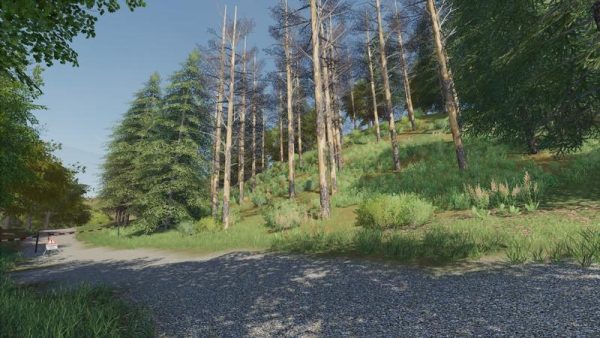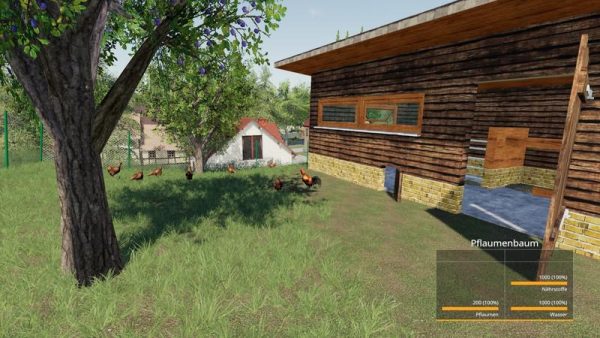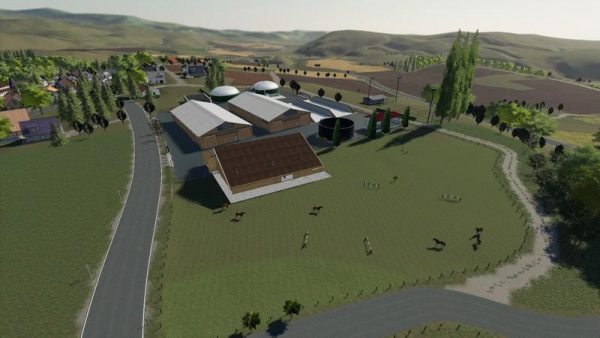 Description:
Seit willkommen im Naturpark Südharz und in der in Europa einmaligen grünen Südharzer Karstlandschaft, im Norden Thüringens!
Version 1.2.2
– Saat und Erntezeiten korrigiert (Seasons)
– Obstverarbeitung Inputtrigger vergrößert
– Traktor Verkaufstrigger funktioniert nun
– Farmhaus Schlaffunktion funktioniert nun
– Schweinestall Wassertrigger vergrößert
– Produktionen Preise angepasst
– Molkerei produziert H-Milch wieder
– Kartonwerk mehr Kapazität
– Tiere Input/Output realistischer gestaltet (Seasons)
– weitere Kleinigkeiten
Die Karte erstreckt sich vom Ortsausgang Nordhausen im Westen, bis zur Grenze Sachsen-Anhalts im Osten, ca.10x4km Fläche (real)!
Zusätzlich benötigter Mod:
Global Company (Download im Modhub)
Inhalt:
-4-fach Map
-20000 fällbare Bäume (Wäldern nochmals verbessert zum LS17, kranke vertrocknete Bäume, Büsche, Baumstümpfe, Äste, verschiedene Bodentexturen)
-fast 2000 Obstbäume (näheres zur Ernte siehe weiter unten)
-92 Felder (insgesamt 255 kaufbare Flächen)
-6 Dörfer
-gekaufte Fahrzeuge/Geräte werden auf den Hof geliefert
-bewegende Fische/Enten/Vögel//Flugzeuge/Zugvögel
-auch die Landschaft wurde an sehr vielen Punkten verschönert und der Realität noch weiter angepasst
-Infotafeln, teils mit originalen Abbildungen
-Durchfahrsilos größer und geräumiger + 1 U-Silo (insgesamt Platz für ca. 2.500.000 l Häckselgut auf dem BGA Gelände)
-feinere Texturwinkel
-Saatgut und Dünger kann weiterhin vom oberen Hof aufgefüllt werden
-Preise angepasst
-zusätzliche Frucht: Roggen
-Seasons ready (auch Büsche in Herbst und Winter angepasst, usw.)
-Produktion die bereits in LS17 auf der Map waren, mit Global Company zum laufen gebracht:
-Sägewerk in Petersdorf produziert Langholzpaletten, werden benötigt für Palettenwerk
-Palettenwerk in Petersdorf produziert Europaletten, werden benötigt für Obstverarbeitung, Molkerei, Kartonwerk
-Kartonwerk in Steigerthal produziert Kartons, wird benötigt für Gewächshaus
-Gewächshaus in Petersdorf produziert Himbeeren
-Kompostierung in Petersdorf produziert Kompost, wird für Gewächshaus benötigt und kann als Dünger verwendet werden
-Sägewerk in Steigerthal, hier bekommt ihr Geld für eure gelieferten Baumstämme und es fällt etwas Hackschnitzel ab
-Obsternte (Äpfel, Kirschen, Pflaumen) auch möglich (Kirschen reifen im Sommer, Äpfel und Pflaumen reifen im Herbst)
-Verkauf der Früchte am Obststand im Sommer und Herbst in Buchholz (in kleineren Mengen), oder am Güterverkauf
-Obst kann in Stempeda zu Fruchtsaft verarbeitet werden und beim Güterverkauf teurer verkauft werden
-und vieles vieles mehr…
Hinweise:
-Ihr könnt gleich die "allgemeine" Fläche kaufen, das ist so der Bereich der Dörfer, usw. Diese Fläche habe ich extra sehr billig gemacht (1€).
-Wer gerne automatische Türöffner hätte, der kann sich den Mod "HoT AnimatedObject Extend" in den Modordner laden (die Map ist dafür vorbereitet)
Spielstand anpassen von V1.0 auf V1.1:
-im Savegame Ordner die items.xml mit z.B. Notepad++ öffnen und nach folgenden suchen "1308.6689 97.4750 -104.8020" und ersetzen durch "1288.757 97.475 -125.992"
-an gleicher Stelle nochmal suchen nach "198.1070 131.2950 605.3930" und ersetzen durch "194.6870 131.2950 604.1330"
-wer in Hallen Getreide kippen möchte, aktualisiert bitte auch noch eine Datei, geht dabei wie folgt vor: ihr öffnet die FS19_Suedharz_Map und klickt auf maps, nun kopiert ihr euch die mapDE.i3d.colMap.grle heraus und fügt sie in euren Savegame Ordner ein, jetzt löscht ihr im Savegame Ordner die Datei tipColMap.grle und benennt die mapDE.i3d.colMap.grle um in tipColMap.grle
Ich möchte mich bei allen Moddern für die tollen Modelle bedanken, die ich auf meiner Map verbaut habe!!!
Ein besonderer Dank geht auch an die Community des Forums "ls-modcompany.com", die mir bei dem ein oder anderen Problemchen immer zur Seite standen und mir geholfen haben, vielen Dank an euch!!!
Und nun wünsche ich euch viel Spaß mit der Map!
Wenn sie euch gefällt, würde ich mich sehr freuen, wenn ihr die Map positiv bewertet und Empfehlung andrückt! 😉
Und es wäre super, wenn sich wieder jemand findet, der das ein oder andere tolle Vorstellungs-Video erstellen würde, danke schon mal dafür!!!
Also dann, rauf auf´s Feld! 😉
Es ist nicht erlaubt die Karte neu hochzuladen oder umzubauen und neu hochzuladen!!! Wenn Ihr die Karte verlinken wollt, nutzt bitte ausschließlich den ORIGINAL Downloadlink!
It is not allowed to upload or rebuild the map and upload it again !!! If you want to link the map, please use the ORIGINAL Downloadlink!
Dzi?kuj? wszystkim modulatorom za ich obiekty, które zainstalowa?em. Je?li kto? pomin??by kogo? lub kto? chce rozpozna? jego przedmiot i by? wymieniony po imieniu, pod??am za nim w nast?pnej wersji mojej mapy.
Authors:
Ersteller: Sheldon
neu in LS19:
neue Bäume (Ash): farmerfivetom
Pferdehalle: Tbereit
seven_bar_gate_four_meter: Dorset
U-Fahrsilo: RB Modding
Fahrsilos: Desperados93
Scheune Platzierbar: ***ADOLF***
Hecken: Lancyboi and ShyWizard
Kleiner Unterstand: Steffen30muc
Forst-Absperrbanner: MR_Unterfranken
Ducato AI-Autos: Dutch-Modding
Heizkraftwerk: stefan1997
Klee, Luzerne: The-Alien-Paul and Modelleicher
neu in LS17:
FORGOTTEN PLANTS – WHEAT / BARLEY / RAPE / MAIZE / SUGARBEETS / POTATOES: Eribus
AdditionalMapTypes: Blacksheep – RC-Devil
Horses: Mike-Modding
House by DBL: DBL
Milchverkaufstrigger: Marhu, Converted to FS17 Blacksheep
Lightswitches: Niggels – VertexDezign
Ackerschacht: XaaD
Stromverteilerkasten: BlackSheep(RC-Devil)
new Houses: goldfox
GALVANISED WATER TROUGH: The Mod Co. (Chocolatecake2001)
Schrankenset: Desperados93
Baumstützen und Fegeschutz: Crouwler
Daylight-Script: kevink98
FliegenderAdler: BulldozerXL
Sägewerk: kevink98
Molkerei: LS-Player94
Svapa Agro Produktion (Gewächshaus, Palettenwerk, Kartonherstellung): Zews
foliage_ForestUndergrowth: sebaj
Obstbäume/Lagerhalle (von mir überarbeitet): Rosenthaler_ROS
Hochsilo (Petersdorf): t0xic0m Pummelboer
Falls ich jemanden vergessen habe, möchte ich mich entschuldigen! Dann schreibt mir und ich trage euch ein!
Danke nochmal an alle!!!
FS19_Suedharz_Map.zip – 624.3 MB modsbase.com/sharemods.com